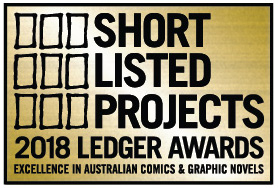 The Short Listed Projects for 2018 (for work published in 2017), will be revealed at OzComic-Con in Melbourne this coming Saturday, 9 June, at the Melbourne Exhibition Centre! If you're attending the Con, look out for the Ledgers display.
The Short List will also be made available on the Ledgers website (right here) at 10.00am on Saturday morning.
The Gold, Silver and Bronze projects, as well as the Platinum Award recipient, will be announced at an Awards Ceremony in Sydney on July 6.