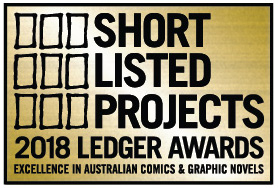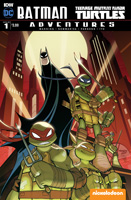 BATMAN/TEENAGE MUTANT NINJA TURTLES ADVENTURES
(IDW, mini series)
Matthew K. Manning, Writer
Jon Sommariva, Penciller
Sean Parsons, Inker
Leonardo Ito, Colourist
The animated worlds of the current
Teenage Mutant Ninja Turtles
 Nickelodeon cartoon and
Batman: The Animated Series
collide in this mini-series featuring fan-favourite characters from both universes.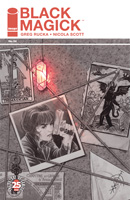 BLACK MAGICK #6-10
(Image, ongoing series)
Greg Rucka, Writer
Nicola Scott, Artist
Chiara Arena, Colour Assists
Detective Rowan Black works robbery/homicide for the Portsmouth PD, but her greatest mystery is the truth about herself… both who she has been, and who she will become. A gothic-noir ongoing series about legacy, destiny, redemption… and the price of magic.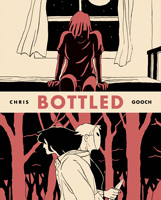 BOTTLED
(Top Shelf, graphic novel)
Chris Gooch, Writer & Artist
Jane is sick of her dead-end life in the suburbs and desperate for a change. Her old schoolmate Natalie made it out, working in Japan as a fashion model. Now, as Natalie comes back to town on business, Jane sees a way for her friend to do her a favour… whether she likes it or not. Chris Gooch debuts with a haunting portrait of millennial alienation, tinged with body horror and Greek tragedy, glamour and terror.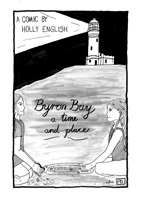 BYRON BAY, a time and place
(Self published, short story)
Holly English, Writer & Artist
'Byron Bay, a Time and Place' is a 12 page A4 comic about Byron Bay in the early '90s. Holly arrives as a teenager and falls in love with a person and a place. However, Holly learns that even in paradise, life can be painful.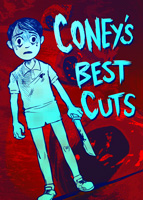 CONEY'S BEST CUTS
(Self published, one shot)
Tatiana Davidson, Writer & Artist
A boy accepts a dare from a gang of local slackers to break into the town's slaughterhouse at night, leading him to dire circumstances.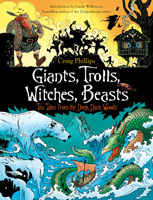 GIANTS, TROLLS, WITCHES, BEASTS – Ten Tales from the Deep, Dark Woods
(Allen & Unwin, short stories)
Craig Phillips, Writer, Pencils, Inks
Latifah Cornelius, Inks, Production
Elise Jones, Editor
Sandra Nobes, Art Direction and Design
A collection of folk and fairy tales from around the world retold in comics format. Tales include Thor and the Frost Giants, Snow White and Rose Red, The King of the Polar Bears, Vasilisa the Brave, and Finn McCool.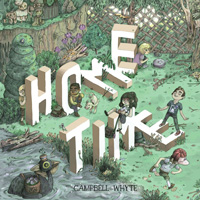 HOME TIME
(Top Shelf, graphic novel)
Campbell Whyte, Writer & Artist
The last school bell has rung and it's finally HOME TIME! Even though they're twins, Lilly and David don't agree on much… except that the last summer before high school is the perfect time for relaxing with friends. But their plans for sleepovers, fantasy games, and romance are thrown out the window when the whole gang falls into a river and wakes up in a village of fantastic creatures. Hailed as magical spirits, threatened by lizards, and trained in the mysterious arts of tea-brewing, these kids must find their way home – if they don't throttle each other first. With a kaleidoscope of art styles, graphic novelist Campbell Whyte makes his spectacular debut, loosely but lovingly inspired by the fantasy worlds of the '80s and '90s.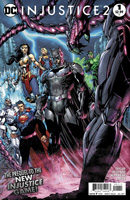 INJUSTICE 2 #1-16
(DC, ongoing series)
Tom Taylor, Writer
Juan Albarran, Bruno Redondo, Daniel Sampere & Mike S. Miller, Artists
Tom Taylor continues his hit series Injustice: Gods Among Us story as Superman is imprisoned, and it's up to Batman to put the world back together. But with Superman's iron-fisted regime eliminated, other forces rise up to fill the void. And Batman doesn't have a lot of allies left to help stop them.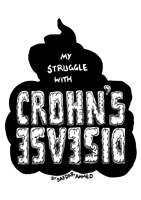 MY STRUGGLE WITH CROHN'S DISEASE
(Self published, mini comic)
Safdar Ahmed, Writer & Artist
'My struggle with Crohn's Disease' is a memoiristic account of Safdar's experiences of living with chronic illness. The comic takes an unflinching look at Crohn's Disease, reflecting on the intersection between patient experience and the social construction of illness.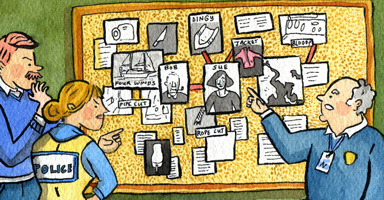 REPORTED MISSING
(TheNib.com, webcomic)
Eleri Harris, Writer & Artist
In 2009, a yacht was found sinking on its moorings, Sarah Bowles' step-father was missing and her mother was charged with his murder. There was no body, no murder weapon, no witnesses and no motive. In The Nib's first serialised work of longform comics journalism, cartoonist Eleri Harris delves into a family's emotional nightmare and Tasmania's most controversial murder conviction.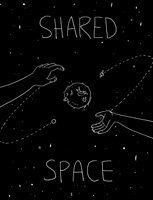 SHARED SPACE
(Self published, mini comic)
Amy Rolfe, Writer & Artist
Made for a Uni assignment about breaking the expectation of what a counts as a "book". As the story develops and the characters grow, the world/page expands with them. It's interactive!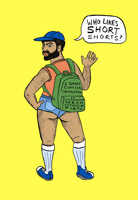 WHO LIKES SHORT SHORTS?
(Self published, collection)
Sarah Catherine Firth, Writer & Artist
An enchanting compilation of short snapshots of Sarah's life and the world around her, in all its contradictions. Celebrating the small moments – and questioning – what even
is
a small moment or a large moment in life? While also considering deeper questions about how we live.
The 2018 Organising Committee and the 2018 Judging Panel congratulate all of the people involved in the Short Listed projects!