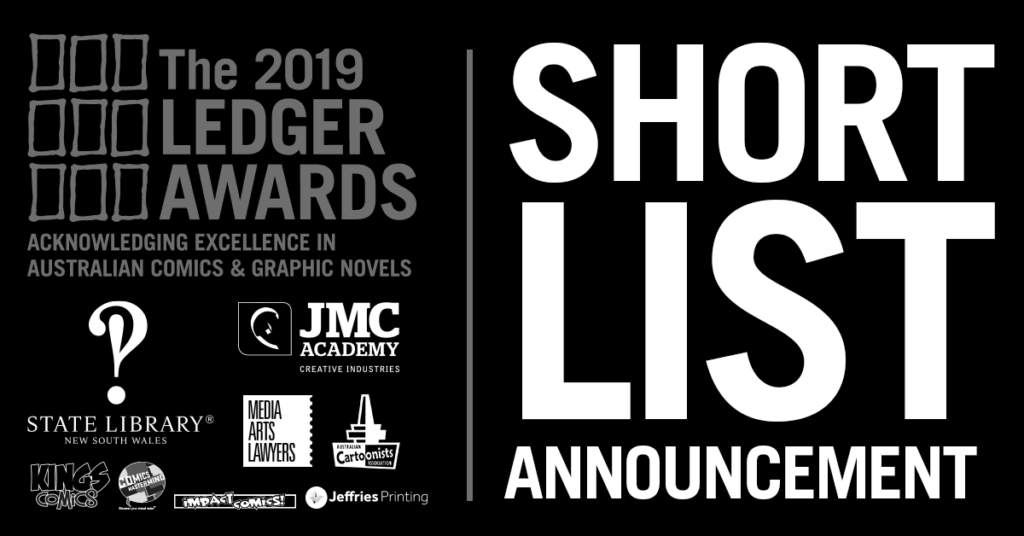 The Ledger Awards Organising Committee is proud to announce the 2019 Judges' Short List.
These projects all received final votes from the Judging Panel. Recipients of the Bronze, Silver and Gold awards, drawn from this list, will be announced at the Awards Ceremony on Friday 26th April at the State Library of NSW. All welcome!
https://www.facebook.com/events/2303865389644194/

The 2019 Ledger Awards Short List is…
Bodies of Water – Campbell Whyte. Manning Community Centre.
Bold Ben Hall – Monty Wedd. Comicoz.
"Career Day" – Dean Rankine. Bongo Comics.
The Claw: The Terrible Beautiful Claw – Marc Pearson. Glom Press.
Clem Hetherington and the Ironwood Race – Jen Breach & Doug Holgate. Graphix/Scholastic.
Dream Diary – Rachel Ang. Self-pubished.
Esther! a true story – Sandra Broman & Esther Olivares. Write & Wrong.
Eternal – Ryan Lindsay, Eric Zawadzki and Dee Cunniffe. Black Mask Studios.
"Final Galaxy Battle" – Jeb MacKay & Sheldon Vella. Marvel Comics.
The Grot – Pat Grant and Fionn McCabe. Self-published.*
How to Survive a World on Fire – Campbell Whyte. Self-published.
"Love Accurately" – Dean Rankine. Bongo Comics.
Meet Me In The Pit #s 1 and 2 – Edited by Chris Neill. Blueprint Comics.
Minefield – Hien Pham. Bedside Press.
My Big Life – Bailey Sharp. Glom Press.
Neither Here nor Hair – Edited by Alisha Jade. Petrie Press.
Raymonde – Campbell Whyte. Self-published.
Return to Houndstooth College – Catriona Drummond. Self-published.
Small Mortal Mammals – Robin Tatlow-Lord. Amplified Press.
Struggle: Revised Edition – Darren Close. Ozone Studios.
Swimsuit – Rachel Ang. Glom Press.
Truth, Justice and the American Dream: The Men Behind Superman – Julian Voloj & Thomas Campi. Comicoz.
"Until We Are All Free" – Behrouz Boochani & Alex Mankiewicz. PositiveNegatives.
A Week in Warrigilla – Pi & Teloka Berry. Self-published.
* Due to this being a part of a larger work, the creator has requested not to be considered for a Ledger Award at this time.