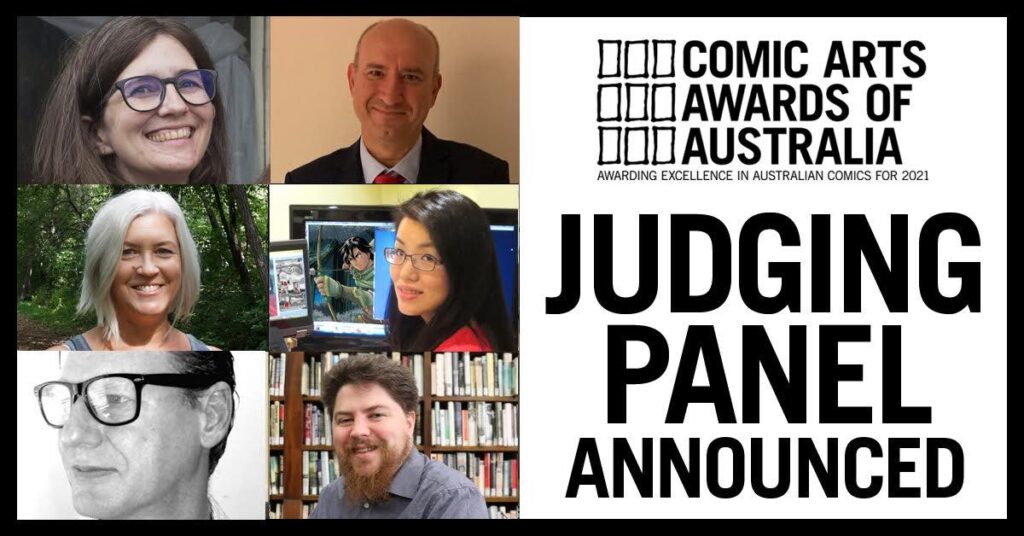 The Comic Arts Awards Of Australia's Organising Committee are proud to announce the 2022 Judging Panel:
Sarah Howell
Sarah is a cartoonist and graphic scribe, a founding member of Squishface Comics Studio and a founding organiser of the comic arts festival and artist market, Homecooked Comics. She has been a resident artist at the National Gallery of Victoria and a Director of the National Young Writers' Festival. She currently is the Cartooning Tutor at the Centre for Adult Education (CAE), Melbourne.
Antonio Di Dio
Antonio is a lifelong lover of comic books, strips and art. With Richard Fry he founded and has run for twenty years The Lee Falk Memorial Bengali Explorer's Club, which has raised many funds for the Westmead Children's Hospital, while bringing together friends of The Phantom. He is the auctioneer for the Australian Cartoonist's Association, a sponsor of the Australian Comic Arts Festival, and a lifelong supporter of the arts in Australia. Away from comics he is a full-time medical practitioner, President of the AMA (ACT Branch), and sits on numerous boards. He has a separate voluntary career in advocacy for ethics, Indigenous affairs, medical politics, and Australia's response to the COVID crisis.
Debra Dudek
Debra is an Associate Professor in the English Program at Edith Cowan University, where she teaches a class at ECU about graphic novels/comics, and has published a few academic articles about comics including Pat Grant's Blue, Shaun Tan's The Arrival, Joe Kelly and Ken Niimura's I Kill Giants, Roberto Aguirre-Sacasa and Robert Hack's Chilling Adventures of Sabrina, and David Alexander Robertson and Scott B. Henderson's 7 Generations. Debra served as a judge on the CAAA Awards last year and loved it. Debra looks forward to working with you all this year.
Queenie Chan
Queenie was born in Hong Kong and migrated to Australia when she was six years old. Her first published work was 'The Dreaming', a mystery-horror series for LA-based manga publisher TOKYOPOP, which has since been translated into multiple languages. She then collaborated on several graphic novels with best-selling author Dean Koontz for his 'Odd Thomas' series, as well as with author Kylie Chan for 'Small Shen'. After that, she worked on several anthologies, and completed a fairytale inspired fantasy series called 'Fabled Kingdom'. She is currently studying for a PhD at Macquarie University and creating a series of biographical young adult comics on famous historical queens called "Women Who Were Kings". Please visit www.queeniechan.com for more information.
Jan Scherpenhuizen
Jan is a writer of prose, a book illustrator, comic creator, academic, publisher and editor. Among his publications are The Secret Quest to Jumlatan (Cloud Nine Media Group, 2009), Wild and Crazy Dinosaurs (Ghost Gum Press, 1989), and the self-published Twilight Age Vampires, (2013), Profile of Evil (2014), Devil Dog Dreaming (2021) and his graphic novel The Time of the Wolves which collects his 6 issue comic book series The Twilight Age published by Black House Comics from 2008-2009. Other comics include 'Dumend's Bar' published in Mattoid, (1989), and, written by Christopher Sequeira, 'The Catamorph' in Terra Magazine and the series 'Mr Blood' in Bloodsongs Magazine. His short fiction has been published in professional anthologies in Australia and the USA, and his book illustrations have appeared in and on books throughout the English-speaking world, most notably in the Hinkler Books classics series. He has just completed his Doctor of Arts at The University of Sydney, a hybrid graphic novel/literary novel/research thesis, which explores superhero comics as an expression of spiritual ambition. He is currently working on a commercial version of that work, which is titled Dutch Technique/The Saga of the Atlantean.
James Baker
James is a librarian and educator from Melbourne (Naarm). He is the secretary for ALIA Graphic Novels and Comics, a special interest group within the Australian Library and Information Association (ALIA), and he is the coordinator of the Librarians' Graphic Book Club which uses discussions around comics and graphic novels for professional development within the information services industry. For the last 7 years James has worked as the cataloguing librarian at the Melbourne Athenaeum Library, where he has also championed the development of a graphic novel collection.