A biography of Peter Ledger (25 Oct. 1945 – 18 Nov. 1994)
Written by Christy Marx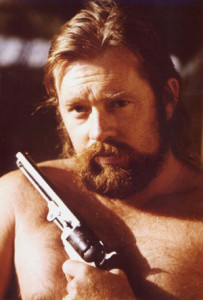 Artist, Pilot, Adventurer. These things only begin to sum up the interests, talents and enthusiasms of a complex man who died much too soon. Peter was born in Sydney, Australia. As a young man, he roamed widely. In New Zealand, he hunted deer for the government, collecting a bounty for the ears. In Australia, he worked on government surveying teams and had many fascinating adventures in the outback, seeing places no white man had ever laid eyes on before.
His artistic talents found many outlets, from woodworking to leatherwork, but his greatest recognition in Australia came from his pioneering use of the airbrush and his wildly imaginative paintings and illustrations for the advertising world. In 1977, he won the Art Directors Silver Award for his stunning Surfabout poster (if you're a fan of the Silver Surfer, be sure to have a look at this one). Also in 1977, his Golden Breed poster was honored in the Graphis yearbook of award-winning posters from around the world. In 1978, he won the "King of Pop" award for "Best Album Cover Design" for The Angels' album, "Face to Face".
He was also well known for his stunning portrait of John Lennon sponsored by a Sydney radio station a day after Lennon was killed and rushed into print as a special commemorative poster. I believe Peter said he painted the portrait within a 24 hour period.
When he wasn't producing art, Peter had many other activities he pursued with zeal: scuba diving and professional salvage diving, racing motorcycles, flying hot air balloons, hunting, bodybuilding, sailing, and cooking gourmet meals. He had an insatiable passion for good food, garlic, and wine. He was the quintessential gentleman barbarian.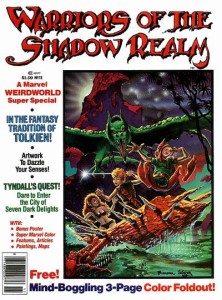 But he had a wanderlust that wouldn't let go. From around 1978-1979, he lived in New York and worked for Marvel Comics. One of his groundbreaking contributions to the comic book field was the first fully-painted and airbrushed work on the series, "Warriors of the Shadow Realm". Peter and I met in Oct. of 1979 at a meeting of the Comic Art Professional Society in Los Angeles. He was on his way back to Australia and stopped off overnight in L.A. to visit friends. Sparks flew the moment our eyes met, but a day later, he was gone.
A year and a half passed. Suddenly, Peter was back in L.A. He'd been brought over to work on a project funded by George Lucas and Gary Kurtz. It was a top-quality, coffeetable art book of "Uncle Scrooge McDuck: His Life and Times", as written and drawn by Carl Barks. Peter was a big fan of Barks' wonderful duck art. His contribution was to hand-paint and airbrush all the stories.
We were together from that time on. From Oct.-Dec. 1982, we lived in Australia, shuttling between Sydney and his magnificent old home (a historic rectory, one of the oldest buildings in New South Wales) in the tiny town of Carcoar, where one can still see the bullet hole in the wall of the bank when it was robbed by Ben Hall, a famous bushranger. We returned to the States and were married on Catalina Island in March of 1983. He lived in California the rest of his life.
Peter concentrated on working in the film and television business, mainly doing storyboards and preproduction design. He painted robot suits and designed aliens for the movie THE ICE PIRATES. He created the first BABYLON 5 logo, did the first character illustrations and an initial painting of the B5 station. J. Michael Straczynski used this art while selling the series.
In spite of his remarkable talents, Peter didn't have the temperament for Hollywood and success in this field eluded him. He had a zero b.s. threshhold and wasn't a man to compromise with stupidity. He was an open and generous man with no patience for avarice or stinginess. So he turned his energies to another one of his great passions: aviation.
Peter loved planes and he loved flying. He was a natural pilot. His particular deep interest, since he was a boy, were the German planes of WWII, most especially the amazing jet aircraft developed during the war. In 1988, Peter and I travelled to Bonn, Germany to have a limited edition aviation print signed by Adolf Galland. He didn't just paint WWII aircraft, he also flew them, when he got the chance. And, as with so many pilots, he had a weakness for pin-up girls as nose art.
Together, we produced a number of comic book stories, such as Carlos McLlyr, and The Sisterhood of Steel graphic novel. He did many other wonderful pieces of art, such as this duelling spaceships cover for Alien Encounters, and another one for "The Monster of Planet Og".
Toward the end of 1988, Peter and I signed a deal to create computer games for Sierra On-Line. We moved up to the Oakhurst area in the Sierra mountains just outside Yosemite National Park. We produced THE CONQUESTS OF CAMELOT: King Arthur and the Search for The Grail. Though Peter did continue to produce paintings for use in computer games (Ringworld, Blood and Magic), he never much cared for working with computers.
Peter was a sensualist and a hedonist. He wanted the tactile feel of art, as he did with everything in life. He lived for the moment, the day. He must have said to me a hundred times, "I need to do this now, because I could be dead tomorrow."
From about 1990 on, Peter concentrated on doing large wall murals and trompe l'oeil paintings. He partnered with a marvelously talented British artist, Susie Wilson. Together, they created many magnificent works of art in the Fresno, Oakhurst, and Monterey areas. Most are in private homes, unfortunately, but if you're ever in Oakhurst on the way to Yosemite, stop in for a meal at Castillo's Mexican Restaurant. It's filled with the murals Peter and Susie did: jungle scenes, desert scenes, parrots, even a pteradactyl bursting in through an open (trompe l'oiel) window.
On the evening of Nov. 18th, 1994, Peter was driving home from Monterey. He was on a dark country road, driving fast, probably deep in thought, and he either missed or ignored a stop sign at a blind corner. He was hit broadside by a semi-trailer hauling a full load of cotton. Both vehicles were totalled. The truck driver survived. Peter died instantly. He's buried in the small, historic cemetery in Oakhurst.
His mother, Ilma Ledger, has sinced passed on, leaving Peter survived by his two children: Karynne Ledger lives in Sydney where she cooks wholistic catered meals, designs webpages, and does spirit guide readings and portraits. Julian Ledger lives in L.A. and works in the special effects business. He builds, paints, sculpts, puppeteers, does computer graphics, and more. He's also one hell of a cook.
Art and food. Must be in the genes.
This biography originally presented on ChristyMarx.com. Used with permission.