The Ledger Awards, established to acknowledge and promote excellence in comic arts and publishing in Australia, are being re-launched with a ceremony to be held in Melbourne in April 2014. Inaugurated in 2005, they return after a five-year hiatus with a new structure and a new major sponsor: Supanova Pop Culture Expo. Fully independent and run as a not-for-profit annual event, they are named after the pioneering Australian cartoonist Peter Ledger (1945 – 1994).
Gold, Silver and Bronze Ledgers will be presented for outstanding comics work published in the calendar year January 1 to December 31, 2013. Two Platinum Ledgers will also be presented to acknowledge individuals whose contributions to comic art, publishing and community in Australia have helped shape the art form in a meaningful way.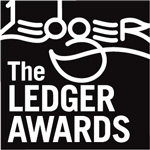 Judged by a panel of experts (soon to be announced) the awards are open to any individual comics/sequential art projects, print and/or digital/web, that are produced (all or in part) by an Australian creator (who identifies as Australian or lives in Australia), or publishers whose main business operations are based in Australia. The Ledger Awards are not a popularity vote, with the judges being asked to consider each project on its own merits in creativity, craft and execution.
"In my twenty-nine years of involvement in the Australian comics scene, I have never seen such an exciting and productive time as now. Quality and quantity are at their highest levels and I believe we're truly in a new golden age for home-grown comics. They deserve wider recognition, celebration and promotion, and that's why we've relaunched The Ledger Awards," says Ledgers organising committee member, Tim McEwen.