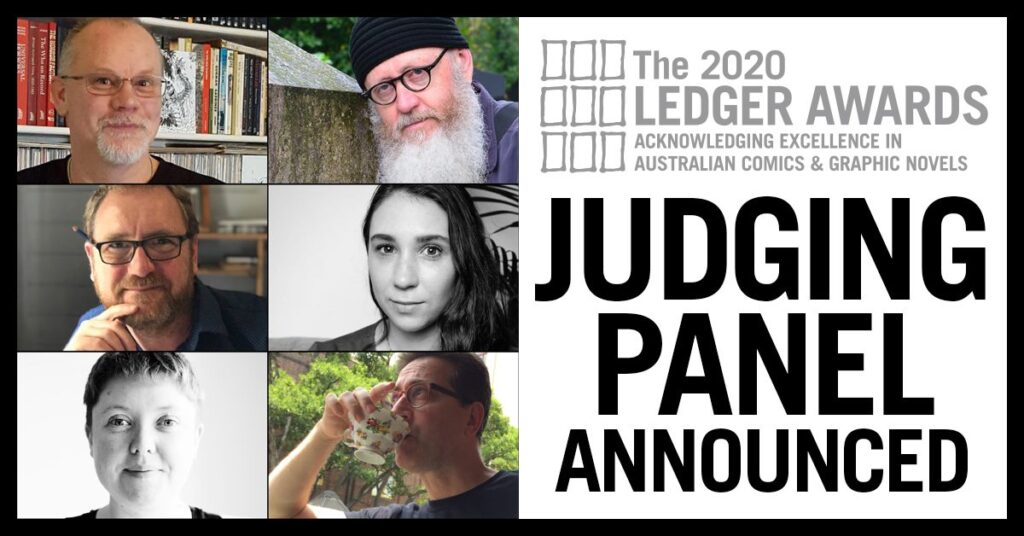 The Ledger Awards Organising Committee are honoured and proud to announce the 2020 Ledger Awards Judging Panel. We have gathered a group of six experts in the field of comics – drawn from a mix of creators, retailers, scholars and historians – to participate in the selection of recipients for this year's Ledger Awards. The judging panel have been hard at work for several weeks now, and this year that panel is:
Gary Chaloner (Lead Judge)
Gary Chaloner was one of the founding members of Cyclone Comics and has been writing, drawing and publishing since the mid-1980s. He is the creator of Flash Damingo and The Jackaroo, Red Kelso, and The Undertaker Morton Stone. Career credits include Will Eisner's John Law, Robert E. Howard's Breckinridge Elkins, Planet of the Apes: Urchak's Folly, and guest issues of The Badger, Power Company and Astro City. Gary was the 2017 recipient of the Jim Russell Award. This award is made to the individual or organisation who in the opinion of the Australian Cartoonists' Association Board has made a significant contribution to Australian cartooning.
www.GaryChaloner.com
Daniel Best
Daniel Best is a writer, researcher and historian who specialises in film and comic books with a focus on the obscure and unknown in Australia's history. He has written eleven books and contributed as writer and/or editor to several others, and has written hundreds of articles, both in print and online. He was a founding member of The Inkwell Awards (USA) in 2009. He is currently researching and writing a history of Australian Comic Books from 1970 to 1999 and a history of the Horror Film Genre in Australia from 1896 to 1973.
ohdannyboy.blogspot.com
www.facebook.com/daniel.best.67
twitter.com/20thCenturyDan
Sean Callinan
In the early 80s Sean started the music video production company Meaningful Eye Contact with Peter Miller and Alex Proyas, working with the likes of Crowded House, INXS, and Fleetwood Mac. In addition to short films, animations, illustration and design they released a feature film called Spirits of the Air, Gremlins of the Clouds. Upon its recent re-release thirty years later, it garnered great praise. Better late than never. He received an AFI Award nomination for Best Production Design though. Sean has since meandered through a career as a Production Designer, Graphic Designer, Illustrator, Storyboard Artist, Concept Artist, occasional Director, and more occasional Actor.
Since the early 90s he has been imparting knowledge and good taste to visually creative aspirants as a lecturer at UTS Vis Com, and later as Head of Animation & Games at JMC Academy. He holds a Masters in Design from UTS and is a voracious reader of all forms of literature, including the visual-narrative-sequential-art-graphic-novelly type. He also doesn't mind the occasional comic.
Siobhan Coombs
Siobhan has worked in comic book retail at Kings Comics for over a decade. She runs the monthly women's comic book club, Queens of Kings, co-hosts the podcast Serious Issues, and is the co-organiser of Brazen Comics Festival.
twitter.com/siobhancbg
seriousissues.tumblr.com
Alisha Jade
Alisha Jade has been a comic creator and editor for over ten years. Along with running numerous anthologies and events she also coordinated the Banksia mentorship for four years and was awarded a Platinum Ledger award in 2015. She runs Petrie Press.
twitter.com/OhMyAlishaJade
Tim McEwen
Tim McEwen is a comic book creator, storyboard artist, cartoonist, designer and educator. He's the co-creator of the internationally distributed, award-winning comic Greener Pastures and has championed Australian comic books since the 1990s as a distributor, publisher, event organiser, commentator, reviewer, advocate and more, including re-establishing the Ledger Awards in 2014. In 2018 he received the Platinum Ledger Award for services to Australian comics. He's currently working on a 300+ page graphic novel revival of Greener Pastures.
instagram.com/timmcewen
twitter.com/timmcewen67
www.unrealism.com.au