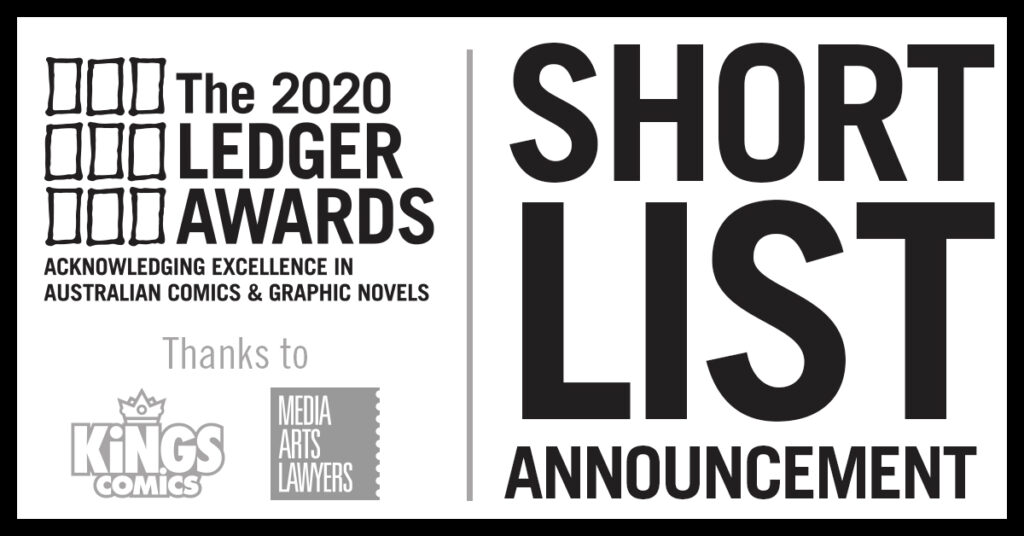 The Ledger Awards Organising Committee is proud to announce the 2020 Judges' Short List.
The Committee would like to thank the judges for their time and patience during very difficult circumstances this year. The short list is the most extensive we've had, which is a reflection of the amount of high quality projects produced in 2019.
Please contact us and let us know if there are any errors in the following list of projects.
A Nice Long Walk, Jake Lawrence (online)
A Sandy Trail, Amy Buchan (self published)
A Thousand Loving Thrusts, Rachel Ang (The Wheeler Centre, online)
A Visit From Midnight Mummy, Tatiana Davidson (self published)
Aberrunt Vol.1: Birth, Kelly Coleman (self published, online)
An Interior Life, Bill Hope (self published, online)
Between Forever, Kim Lam/dangerlam (self published)
Burger Force Vol. 4, Jackie Ryan (self published)
Cabramatta, Matt Hyunh (The Believer, print and online)
Chinyere, Claudia Chinyere Akole (self published)
Collective Consciousness, David Mahler (Entropy Magazine, online)
DCeased, Tom Taylor, writer (DC)
Deep Breaths, Chris Gooch (Top Shelf)
Diabel, Frank Candiloro (FrankenComics)
Drawing Power: Women's Stories of Sexual Violence, Harassment and Survival, Rachel Ang, Sarah Firth, Meg O'Shea. Diane Noomin, editor (Abrams ComicArts)
Eldritch Kid: Bone War, Christian Read, Paul Mason, Justin Randall, Wolfgang Bylsma (Gestalt)
Exilium, Ben Slabak, writer (Alterna)
Fence Vol. 03, C.S. Pacat, Johanna the Mad (Boom! Box)
Free Money Please, David Blumenstein (self published)
Given The Options, Sarah Firth (Choice Words: A collection of writing about abortion, Allen & Unwin)
Good Boy, Kim Lam/dangerlam (self published)
Goodbye Apollo, Uyen Nguyen, Thom Nguyen (self published)
Haphaven, Norm Harper and Louie Joyce (Lion Forge)
Healing Alone, Dr. Isabel Hanson and Safdar Ahmed (The Guardian)
Healing Is A Process, Sarah Winifred Searle (self published)
Journal Comix, Claudia Chinyere Akole (self published)
Katabatic #2 #3, Jennifer Reuter (self published) 
Life Happening, Kim Lam/dangerlam (self published)
Master & Apprentice #2, Daniel A. Becker (Invisible Ink Studio)
Maurice and The Metal #1, Aaron Sammut, writer (self published)
Meet Me In The Pit #4, Chris Neill, editor (Blueprint Comics)
Melencholy, Andreas Bartnitzky (self published)
Mini Mel & Timid Tom, Ben Hutchings (Squishface Studio)
Mostly True Stories, Caragh Brooks (self published)
No Socks, Stacy Gougoulis (self published, online)
Self/Made, Mat Groom, writer (Image)
Shadow Portrait, Rachel Ang (World Literature Today, online)
Silver Fox #1, Darren Dare, writer (self published)
Sincerely, Harriet, Sarah Winifred Searle (Graphic Universe)
Storm Clouds Collected, Ben Mitchell (self published)
Talgard: Tome One, Gary Proudley, writer. Justin Randall, colours. Various artists. Wolfgang Bylsma, editor (Gestalt)
The Adventures of Anders, Gregory Mackay (Allen & Unwin)
The Adventures of Jack Scratch: Curse of the Kraken, Craig Phillips (Wildling Books)
The Grot #3, Pat Grant, Fionn McCabe (self published)
The New Guards, Jess Kitty Parker (self published)
The Phantom: It Tolls For Thee, Paul Mason (The Phantom 2019 Annual: The Phantom At War, Frew)
Toby & The Magic Pencil #2, Gary Dellar, Ben Sullivan, Darren Close (Reverie Publications)
Ubby's Underdogs: Return of the Dragon, Brenton McKenna (Magabala Books)
What We Tell Them, David Blumenstein (self published)
When One Person Dies the Whole World is Over, Mandy Ord (The Lifted Brow)
Why Is He Laughing? A cartoonist's journey with cancer, Geoff Augustine (Network Creative Services)
Witchy, Ariel Slamet Ries (self published, online, Lion Forge)
Words of Willow, Stefan Guizzo (self published)